South Carolina
Methods of Teaching
In-Person
Live Instructor
Board Approved Methods of Teaching Program!
Are you a licensed professional in the field of cosmetology, barbering, nail technology, or esthetics looking to take your career to the next level? Our 10-week Methods of Teaching Program is designed just for you.
This program is approved by the SC Board of Cosmetology and is tailored to help you become a skilled and certified instructor, equipped with the knowledge and expertise to excel in classroom management, lesson planning, and lecture teaching. After completing the program, you will be prepared to pass the SC Cosmetology Instructor Examination and embark on a new career.
Program Overview
Instructors: Sharon Edwards and Jacqueline Golden
Duration: 10 weeks
Total Hours: 45 hours of instructional teaching
Focus Areas:

Classroom Management Strategies
Effective Lesson Planning Techniques
Engaging Lecture Teaching Methods
Upon successful completion of this program, you will be fully prepared to take the SC Cosmetology Instructor Examination and embark on a rewarding journey as a licensed instructor.
Prerequisite
If you are a licensed Cosmetologist, Barber, Nail Technician, or Esthetician with less than two years of licensure, you must fulfill the prerequisite by completing the 750 Instructional Student Course at a licensed beauty school.
Required Materials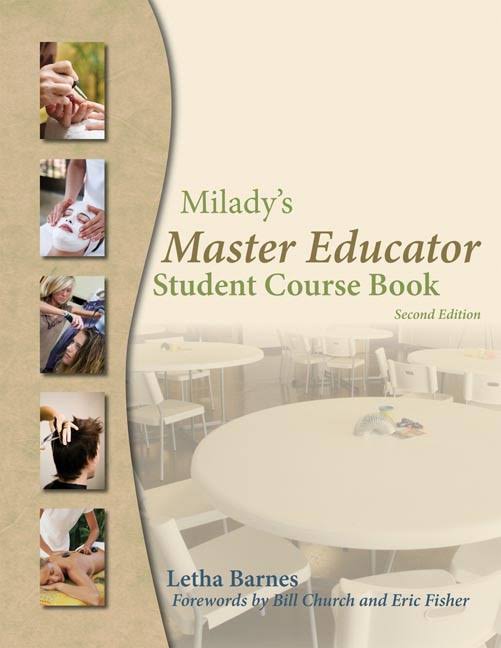 To ensure a comprehensive learning experience, you will need the following textbook (included in the course fee):
Title: Master Educator's Student Course Book
Author: Letha Barnes
Publisher: Milady
ISBN: 1-56253-582-X
Edition: 1st Edition
Learning Outcomes
By the end of the Professional Instructor Certification Program, you will have gained the skills and knowledge to:
Assessment Mastery: Develop and execute assessments that effectively monitor and support student learning. Provide valuable feedback to guide students' progress.
Engagement Strategies: Utilize a diverse range of developmentally appropriate strategies to engage students in effective and meaningful learning experiences.
Curriculum Enhancement: Integrate new and innovative concepts into curriculum development, enhancing the instructional content and guiding student learning effectively.
Inclusive Environment: Foster an inclusive classroom environment that caters to the diverse needs of students. Employ varied instructional strategies that cater to different learning styles.
Reflective Practice: Analyze your own perspectives and teaching practices related to student achievement and engagement. Continuously improve your teaching methods based on self-reflection.
Professional Ethics: Demonstrate a strong understanding of the professional, legal, and ethical responsibilities and policies related to teaching in the field.
Join Us Today!
If you're ready to take the leap from being a licensed professional to becoming a certified instructor in the world of cosmetology, barbering, nail technology, or esthetics, our Methods of Teaching Program is your pathway to success. Equip yourself with the skills, knowledge, and confidence to shape the next generation of industry professionals. Enroll now and embark on a fulfilling and dynamic teaching career.
For enrollment details, program fees, and any further information, please don't hesitate to contact us.